Spend a Sunday in Belgium with this traditional recipe, roast chicken, potatoes and applesauce (yes, we were surprised too). This dish was revisited last night on Top chef, and it aroused our curiosity so much that we wanted to share this recipe with you and talk about it a little more.
Last night Logan, Belgian candidate for Top Chef offered his " Sunday family roast chicken with compote apples and candied potatoes. An association that has piqued our curiosity and pushed us to learn more about its origin.
Just like Logan, this one the recipe is Belgian ! This is the dish to share with family or friends. A Belgian acquaintance, Margaux, tells the Marmiton editorial team that in Belgium the tradition is to go to a fry shop to get some good Belgian fries and then buy an apple mousseline, in addition to the Sunday star, roast chicken! Today we propose you to prepare this dish yourself from A to Z, from roast chicken, to applesauce, to real Belgian fries. Here is the recipe for this dish that will surprise more than one with his own sweet, salty touch !
Chicken – made up on a Sunday in Belgium
To make this recipe, you will need to start by preparing the three recipes separately. Once everything is ready, all that remains is to enjoy it all together. Serve the chicken, a spoonful of compote and your chips. A culinary tips directly from Belgium "Dip the fries in the compote"! In addition, we have unearthed alternative recipes to chicken on a site of big Belgian eaters, proposing to replace it from black pudding, white pudding and even sausage ! Unleash your creativity.
Simple Roast Chicken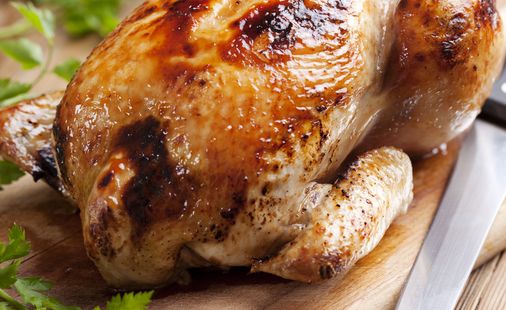 To do this, preheat the oven to 190 degrees.
Take the chicken and massage it with oil, it should penetrate the skin well. Add salt and pepper. You can choose to add Provencal herbs, garlic and even a good piece of butter, which will make the skin crisp. Place the chicken in the oven for 1 hour and 30 minutes.
During this time you can prepare your own compote and Belgian fries.
It is not mandatory to prepare your compote yourself, but it is so simple that it would be a shame to deprive yourself of it. Belgians eat it "Not very sweet and without pieces", and it is a Belgian who tells us. It should be fine and smooth.
Simple apple compote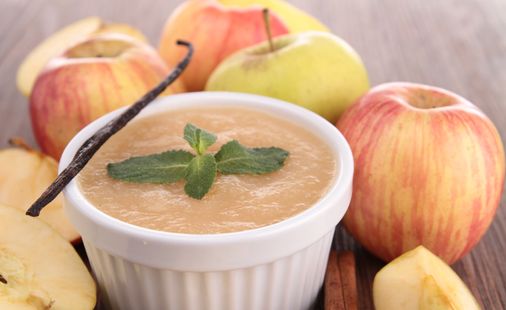 Start by peeling the apples, removing the core with the seeds and cutting them into quarters. Pour a small glass of lemon juice into a pan, fill the pan with apples. Add the split and scraped vanilla pod to recover the small black seeds.
Cook for as long as possible over low heat, about 1 hour and 30 minutes.The compote is ready when it turns red and begins to stick. You have to mix often. When it is a little cold, put it in the blender to have a compote without pieces, having looks a bit like a moss. You just have to put it aside to reserve it.
The real Belgian fries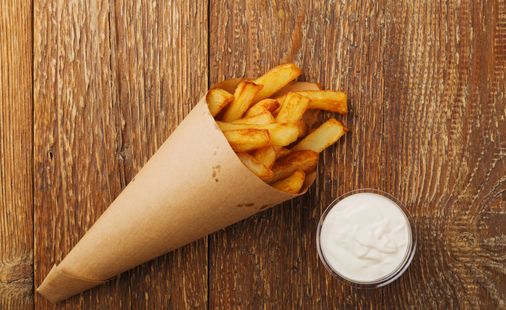 All you have to do is Belgian fries!
Peel and wash the potatoes and dry them individually.
Cut from Slices 1 cm wide thick in each potato. Dry each slice individually, then cut the fries into 1 cm sticks.
Meanwhile, heat the oil to 160 ° C.
When the oil is hot, dip half of the fries in the oil and cook for 8 minutes (this is pre-cooking), shaking regularly to prevent the fries from sticking.
When cooked, drain the fries by draining them on the fryer and lay a layer on absorbent paper. Repeat the same operation with the other half of the chips.
Raise the temperature of the 190 ° C deep fryer, a few minutes before serving.
Then dip the pre-cooked fries for 4 minutes in the boiling oil to make them color well. Shake regularly. Work, again, with half of the fries.
Once cooked, drain your fries, beating them on the fryer.
Pour them immediately into a baking tray lined with absorbent paper and add salt before serving. Shake the fries one last time before eating.
Here is the dish that Logan presented in Top Chef this Wednesday March 2nd
Read also: